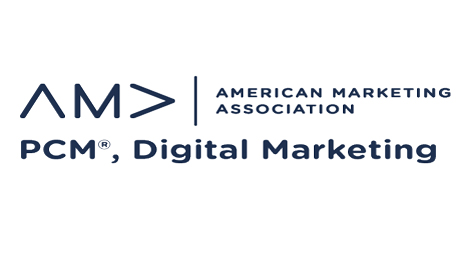 Prove you have the right skills. Become a Professional Certified Marketer.
When you have the letters P-C-M behind your name, you're showing the world you're serious about making a difference in marketing. With the American Marketing Association Professional Certified Marketer® program, you'll not only gain the knowledge you need to advance your career, but you'll also prove to employers you're equipped to take on modern marketing challenges.
The AMA offers two different PCM® tracks each with its own specialty. Check out the options below to see which is right for you.
The digital space changes fast. With the PCM® – Digital Marketing​ you'll demonstrate that you have the specialized skills you need to not only understand what works now but also what new best practices are on the way. You'll find the confidence to show how digital marketing makes an impact.
As a member of a small team, a leader of a large department or an entrepreneur out on their own, PCM® – Marketing Management is a way to prove you have the knowledge you need across a broad spectrum of marketing topics. 
Ethical Issues Affecting the Marketplace

Strategic Marketing

Understanding & Targeting the Marketplace

Value Creation

Value Capture

Value Delivery

Marketing Communication

Marketing Evaluation
---
Testimonials
We believe PCMs from the AMA are the best, vetted programs to help you advance your career as a marketer. Our graduates agree and are proof that adding PCM® to your credentials is a worthwhile endeavor:
"I am really looking forward to marketing myself with the American Marketing Association PCM credential.  As a marketer, it's wonderful to be recognized in the industry as a professional who has mastered core knowledge and principles."
-Angela Ten Clay, PCM
Senior Marketing Specialist, TMG Financial Services​​
"Not only has the PCM credential been a source of professional pride, it also helped me to beat the competition for clients and new jobs.  The PCM has helped me to stand out and leverage the credibility of the American Marketing Association to my advantage." 
– David Kinard, M.Ed., PCM
Associate Vice President, Marketing & Communications, Physicians Insurance a Mutual Company
"Earning American Marketing Association PCM certification represents the highest standard of achievement for a marketer.  When clients see the PCM credential, it gives them the assurance that they are working with a marketer who is highly educated, experienced and ethical." 
–Scot Squires, MBA, PCM
Marketing Strategist
"I am proud to have achieved the designation of Professional Marketer from AMA – the leading organization for Marketers. The PCM® designation not only complements one's educational background but also showcases their tireless effort to master the science and art of Marketing."
-Saj Khan, MBA, PCM
Still have questions? Email us at pcm@ama.org.
Sources: ama.org